Welcome to Fairy Tarot Friday. Each Friday I'll share a card from the Fairy Tarot deck by Doreen Virtue & Radleigh Valentine, featuring an uplifting message from the fey. I'll also include a bit of syllabic poetry inspired by the card reading.
The Major Arcana contains 22 cards that describe major events and turning points in our lives (marriage, pregnancy, relationship and career changes, and overcoming personal challenges). The Major Arcana cards also represent the different phases from childhood to old age.
Doreen Virtue numbered the Minor Arcana cards to comprise four suits representing different aspects of human life. They number the Minor Arcana cards 1 (Ace) through 10, plus the four court cards (Princess, Prince, Queen, and King). The Minor Arcana reflects the day-to-day aspects of our lives and the people in them. Court cards represent either a situation or a person during a reading.
The Minor Arcana comprises four suits. In traditional Tarot they are; wands, cups, swords, and coins. In Fairy Tarot, the four suits reflect the seasons: Spring for wands, Summer for cups, Winter for swords, and Autumn for coins. In Angel Tarot, the seasons represent the four elements: fire = spring, water = summer, air = winter, and earth = autumn. Consider these elements in relation to the Fairy Tarot, as well.
The divinatory meanings are given for upright cards only—this tarot is not intended for reversed readings.
Once you get to know the fairies, you'll see they are strong-willed environmentalists. They get perturbed at people who mistrust animals or the earth. Never lie to a fairy. Instead, help them take care of the planet and other living beings. Do your part. Your actions will richly reward you, and the fairies will encourage you in amazing ways.
Today's Card:
Ego – from the Major Arcana
The Ego card… Wow! This is the first time I've drawn this card. What are the faeries telling us? Well, for one, happiness will be elusive if you're not clear on your own priorities, motivations, and behaviors.
The ego card also suggests that by taking the time for some self-reflection will allow you the opportunity to open your heart to experience great personal epiphanies and to practice self-forgiveness. Who doesn't need a reality check once in a while?
LOUD and clear… see the truth of who you are.
Release what no longer serves you. Let go of the guilt, fear, and blame. Now is the time to feel compassion for yourself. You're wonderful, you know!
The faeries suggest you look into the mirror and tell yourself:
I love you for being Divinely perfect in this moment.
Detox from harmful foods, substances, or people. Confront your fears and release yourself from any limitations or self-imposed traps. I know it's hard to do, but once you embrace this fresh way of thinking, you will feel free for the first time in a long while. Breathe!
Do you feel the burden of the material side of life? Perhaps you've lost your job because of the coronavirus? If so, this isn't your fault. Give yourself permission to free yourself from blame. Remember when one door closes, a window opens. Be creative. Dream of a new reality.
This lovely card portrays two faeries standing before a traditional Celtic Beltane Fire, a springtime sacred ceremony to release the old—that is, guilt, fear, blame, and other products of the ego—and welcome the new.
Today is also the new moon. Here is another reading that will help you find clarity on this date. Click the link below: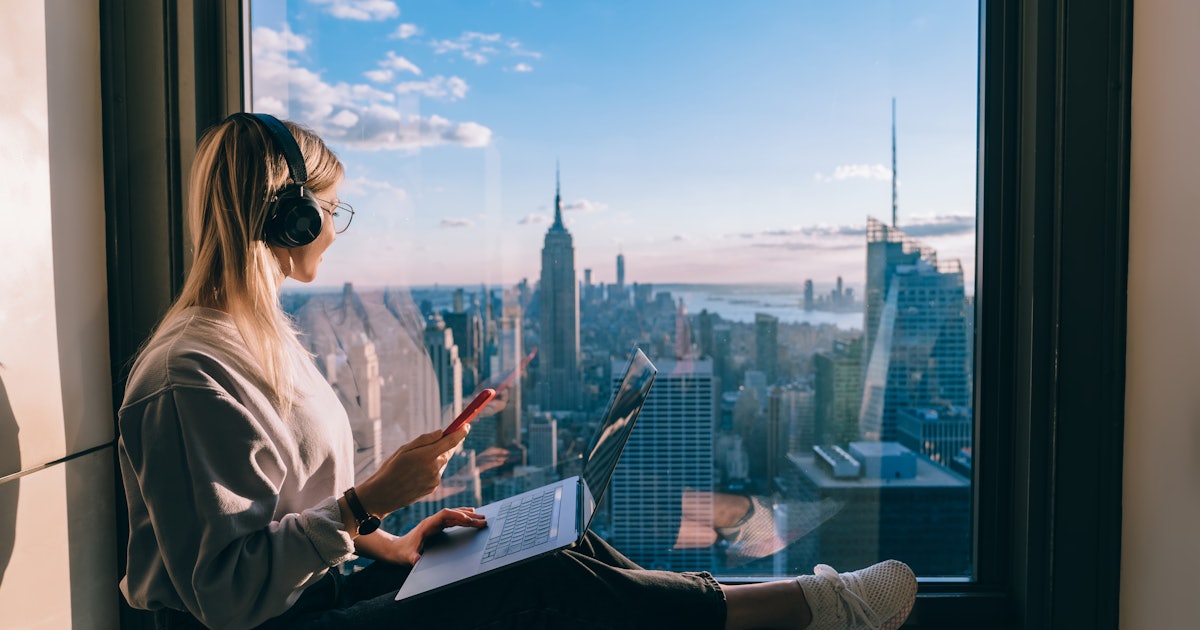 The May New Moon In Gemini Is Packed With Spiritual Meaning
It's time to turn the page and step outside of your comfort zone. You're a limitless being and you shouldn't settle for anything less. Though the new moon phase typically revolves around new beginnings, the spiritual meaning of the May 2020 new moon…
Additional meanings of this card: Determine what is the cause and what is the symptom. Self-examination. Placing too much importance on material items. Getting caught up in fear and worry. Dependency or addiction.
"Let Go," Senryu
open up your heart
see the truth of who you are
let go of ego
©2020 Colleen M. Chesebro